Views, Reviews & Interviews
Thursday, November 27, 2014
It's been a busy week or two, with the new Twinmaker novel doing the rounds and various other things in the pipe. Crash/Crashland got some great press in the national papers. The Sydney Morning Herald said: "while marketed as young-adult fiction, [it] is one of the rare examples of the genre that can be appreciated by all ages … a fun, smart, adventurous book, a work of sci-fi as big on ideas as action." The Adelaide Advertiser called it "a ripping read, perfect for weekend escapism." Kristy at Book Nerd Reviews gave it 4/5 and a lengthy, very kind review.
Meanwhile, check out these interviews in which talk about my dream casting for Dylan Linwood, what you'll find on page sixty-nine of the US edition, and the books I'm reading right now.
In the real world, Crash/Crashland was launched at Stefen's Books, in Perth: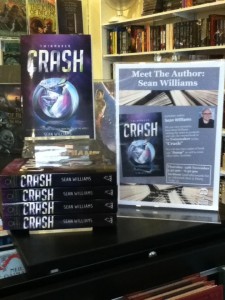 At Supanova Adelaide. Garth Nix launched Crash/Crashland from inside a wrestling ring, launching himself from the ropes in the process: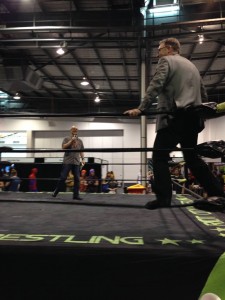 I met James and Oliver Phelps, aka Fred and George Weasely in the Harry Potter movies, possibly the most famous twins in the world: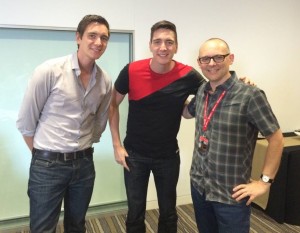 I also settled the matter of who fired first: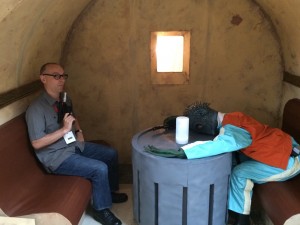 Tomorrow I'm off to Supanova Brisbane, where I expect to do more of the same. I'm also starting a virtual residency at Inside a Dog, so if you want some writing tips that's the place to go!
So, busy. But good. I'll pop back in soon with a new story, and more.
Don't forget to rate or review!