New Story: "The Lives of Riley"
Wednesday, September 14, 2016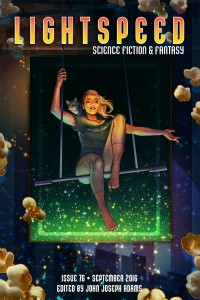 Updated! Now available online for free. But subscribe anyway for the karma!
Get your Lightspeed subscription now! Issue 76 contains a brand new Twinmaker story, "The Lives of Riley", along with stories by An Owomoyela, Charlie Jane Anders, Alec Nevala-Lee, Maria Dahvana Headley, Jaymee Goh, Tim Pratt, Christopher Barzak, Peter M. Ball and Nisi Shawl. A truly bumper edition!
"The Lives of Riley" is a Twinmaker story that uses romance and rivalry to push ideas of identity right off a conceptual cliff. In that way it's similar to "All the Wrong Places", "A Giant Leap for a Man", "The Beholders", "Incomplete No.7″, many of the urban myths, and the entire Twinmaker series itself–but it remains very much its own thing, exploring an idea I've wanting to take further for over a decade.
The issue also contains an author spotlight in which I talk about the writing of this "vicious gut punch" story, how I went about fitting so much into it, and in general how I write ideas-driven fiction.
Here's an excerpt. Enjoy!
---
The sirens are growing louder. Riley doesn't know how the peacekeepers found out–he was so careful, so sure he'd covered every trace of his existence, all of it–but that's less important now than getting away. He cannot afford to make any more mistakes.
The night seems dark and empty as he leaves the warehouse through the back door, the sound of his hurried footsteps multiplied by more than echoes. Riley doesn't need to conduct a headcount; he instinctively senses the presence of his other selves, knows that they are nearby and in their proper number. There are sixteen. That's as far as he managed to get before this unexpected setback.
Riley is responsible. He is the one who came up with the plan and wrote the hack that turned his private d-mat booth into a personal duplicator. It was he who dreamed of being one but many, inerasable, safe from every danger.
That dream is still alive. If he can reach the reserve facility in Brooklyn, he can pick up where he left off. But if the peacekeepers catch him they will erase him and the others without hesitation or remorse.
He owes it to his other selves to keep them alive, every one.
Read more Twinmaker stories here.