"Redux" cover reveal
Thursday, May 28, 2015
I've just come back from the Copper Coast where I've had a great time at this year's Kernewek Lowender, and now I'm in Melbourne for Reading Matters, with a quick stop in Alice Springs on the way home. This explains why I haven't posted for a while. But now I have news!
"Redux" is an e-novella coming out this year from Allen & Unwin. It connects Crash and Fall (aka Crashland and Hollowgirl elsewhere) and will be available all over the world. To give too much information about the plot would be to spoil certain details of all three books, so writing a blurb has been difficult. But here it is, and the beautiful cover. The good people at A&U have outdone themselves once again!
I'll be back soon with more news. Until then, if you're looking for something post-apocalyptic but more chill than Mad Max: Fury Road, you might like "Ghosts of the Fall", which I wrote half my lifetime ago but was just reprinted in Lightspeed. Enjoy!
---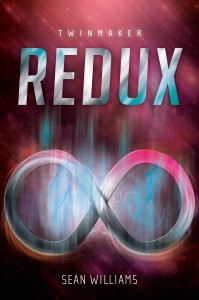 Jesse is in trouble, and this time Clair can't help him.
When Ant Wallace's trap springs shut in New York, it's up to Jesse to save a horribly injured Ray while at the same time dodging Mallory and an army of dupes. As if that isn't bad enough, the city around him is acting strangely, as thought it isn't entirely . . . real.
With the help of a new friend, and friends thought long-dead, Jesse must escape from New York in order find Clair and help save the world.