New Story: "The Cuckoo" + Other Shiny Things
Thursday, April 10, 2014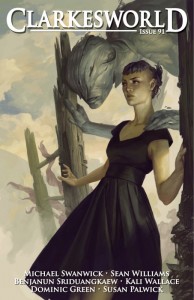 April being April, what could be better than a story about The Fool? Thanks to Clarkesworld for publishing "The Cuckoo", a Twinmaker story about yet another threat to everything we hold dear. D-mat is a powerful and dangerous tool, and so are memes. Put the two together at your own peril.
Here's the opening:
April 1st, 2075, 9:15-9:23am
More than one thousand commuters traveling via d-mat arrive at their destinations wearing red clown noses; they weren't wearing them when they left. The global matter-transmission network is rebooted, source of the glitch unknown. All the clown noses are destroyed except for three retained by private collectors.
Meanwhile, I was interviewed with Marianne de Pierres, John Birmingham and Meg Mundell by Dark Matter Zine on the subject of world-building, of which there's an awful lot in Twinmaker. Here's a link. The interview was conducted under trying internet weather but we muddled through. Kudos to the editor for bringing it all together and to Nalini Haynes for her excellent questions.
It was a good week for the mail, too. Below are some shots of my first academic publication, a chapter in this excellent book. Ask your local library to order a copy. Ask your uni. It's a corker!