Locus Hearts Hollowgirl Again – Giveaway
Tuesday, February 2, 2016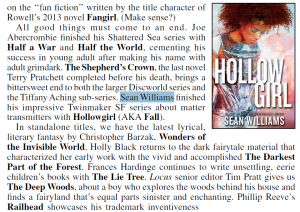 Thanks to the Locus crew, whose latest issue contained an unexpected surprise.
In all my years writing, I've only had one novel recommended by Locus (The Storm Weaver & the Sand). Now it's two. Hollowgirl/Fall gets a plug in the YA section, for which I'm incredibly grateful.
After their fantastic review from late last year, I thought I had exhausted that well of generosity. Locus, it seems, is the gift that keeps on giving.
Speaking of which, my author copies of Hollowgirl from the UK were delayed (blame global warming). They've just arrived, and to celebrate this new milestone I'm offering five of these beautiful editions to anyone who would like one. My contact details are here.
Enjoy!