Instant Elsewhere, Out Now
Tuesday, April 12, 2016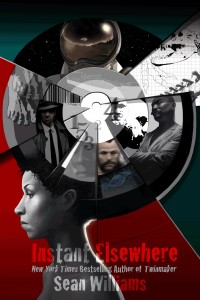 A new collection of Twinmaker stories you can enjoy in bite-size chunks anywhere you have your phone – what could be better? Nothing! And it's out right now through Tapas. All you have to do is download the app, search on my name or the title, Instant Elsewhere (it might even be on the front page), and there you have it. Start reading for free. Easy! (If you were to leave a review, that would be great too.)
Table of contents below with, more about the business model here, groovy cover to the right (with a whole new Clair), and an interview with me at this link. So much content. Get it while it's hot!
Imagine a world where planes, trains, and all other forms of transport have been rendered obsolete. A world where factories and farms are things of the past. A world where people can go anywhere, have anything, be anyone . . .
This is the world of d-mat.
"Go"
"The Missing Metatarsals"
"Plenty"
"Death and the Hobbyist"
"Popcorn"
"Murdering Miss Deboo"
"Die with a T"
"The Ghost of What Might Have Been"
"Zero Temptation"
"A Giant Leap for a Man
"The Other Fly"
"The Beholders"
"The Hacker"
"Face Value"
"The Hole"
"Artistic License"
"The Last Christmas"
The stories of Instant Elsewhere are about people. And they're about d-mat, too. Because d-mat is not just our ultimate technological dream. It's something we're working towards right now. If the Water Wars don't kill us and the rising seas don't wash us away, if we continue studying quantum teleportation and refining our scanners and printers, we will be the characters in these stories. We will build the world of d-mat, and our grandchildren will inherit it.
Whose side will you be on?