New Twinmaker Story out now – "Incomplete No.7"
Wednesday, January 29, 2014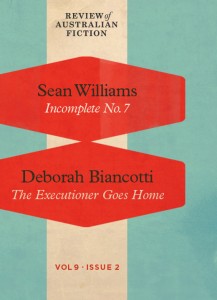 The latest issue of Review of Australian Fiction contains a brand-new Twinmaker story, one that depicts the events of the novel from the behind the scenes.
"Incomplete No.7" runs parallel to Clair's story and Q's story (coming to an end right now in "I, Q"), this time from the point of view of one of the bad guys.It's paired with a new work by Deborah Biancotti, "The Executioner Goes Home", which she describes as a "steampunk/space opera/paranoia fantasy". I concur – and it is excellent.
The issue is available right now for less than the price of a hot chocolate, and it'll last longer. Check it out!