"The Legend Trap" wins a Ditmar Award!
Monday, April 6, 2015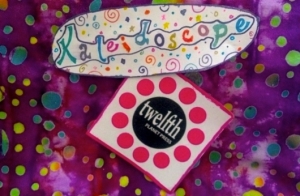 A Twinmaker story about three kids pushing an urban myth to its ultimate conclusion, "The Legend Trap" was a submission to Alisa Krasnostein and Julia Rios's excellent collection of diverse YA stories, Kaleidoscope, which made it onto the Tiptree honors list and was nominated for Tin Duck, Ditmar, and Aurealis Awards. It's now taken gongs in two of those awards at Swancon 40 (watch this space for the third), and is still on sale, for one more day. Don't miss out!
I'm enormously excited that this story won in the Best Novella or Novelette category. It's a form I love, and a yarn I'm very proud of. My only regret is that I couldn't be there in person to accept the award (Alisa very kindly did that for me). In about five minutes I'm getting on a plane (not into a d-mat booth, alas) to fly to the US to attend this year's Writers of the Future bash. I will be buoyed by this news and encouraged to write more!
Thanks to everyone who nominated and voted, and congratulations to all the nominees and winners.
Diversity rules.
(Image from Visiblity Fiction.)